Prove by the way you live!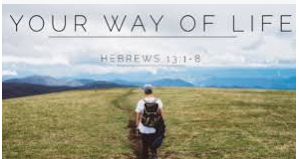 Bible Text: Luke 3:7-8 "Prove by the way you live that you have repented of your sins and turned to God. Don't just say to each other, 'We're safe, for we are descendants of Abraham.' That means nothing, for I tell you, God can create children of Abraham from these very stones."
Memory Verse: Galatians 5:25 "Since we are living by the Spirit, let us follow the Spirit's leading in every part of our lives."
Same as you cannot light up a candle and place it under a basket, you can't claim to be an ambassador of Christ and people who see you and relate with remain unable to tell that you are. Light cannot be hidden; C'est fini. Absolutely no one is perfect, as we are all working towards living the life Christ has called us to, but we still see some Christians today who are meant to be consciously living lives that attract non-believers to Christ but whose way of living actually does quite the opposite.
Some Christians have a confused status! It's easy to use the word confused because they don't know where they should belong to or where they stand. With such attributes one could be easily likened to a chameleon who blends into every environment, so as to fit in. After a while, such Christians eventually derail because the world presents itself really glittery and attractive to the physical eyes and being unable to take a stand for God makes it easy to be labelled by the world and made a prey.
In today's bible verse, we see the life of John the Baptist as he began to prepare the way for Jesus. He had been preaching repentance to the people and asking that they be baptized and turn to God by the way of salvation. While some people he was preaching to may have claimed to already know the truth, their lives were the direct opposite of what they claimed to know. In other words, they didn't act on the word of God because they lacked real understanding.
The life of a Christian is very practical as the word of God blesses those who hear the word of God and obey it, Luke 11:28. When it comes to God's word and living the life of Christ, being a hearer is not good enough, you have to be a doer, an active ambassador and an imitator of Christ.
You cannot be a Christian, a bonafide child of God and live contrary to the word of God. Whiles various group of people continue to ask John the Baptist how to prove by the way they lived, He gave them different ways in which the lives they were living does not correlate with and reflect the love of God. A need for change was necessary! A life lived for God will be known by the person living it and in no time becomes evident to the people surrounding them including other believers. It's a life of light, it gives brightness to the room and radiates glaringly.
Whiles we may not have a long list of right or wrong ways of living, the bible is a Christian's guide to God Will and His expectations from us. A good place to start will be to review if your current life proves your love for God? Does your love for God show in the way you embrace your neighbors? 
God is passionate about His children and that's why He so nicely has given us a guide to living a live that please Him. Let everything about your way of life, words, action, reaction tell the world that you are a child of God. When in doubt open your bible!
Remember the word of God according to Ephesians 5:1 and 1 Timothy 4:12,  which encourages us to be imitators of Christ and a true example for other believers in our speech, our conduct, our love, faith, and purity. Let's all take steps towards that from today!


PRAYERS:
Father I thank you for another time like this in your word
Thank you for your word that gives life and understanding to the simple
Help me from today to live a life worthy of your calling
Help me to be a light to the word in my way of life, works and word.
Forgive my iniquities Lord and let your mercy prevail over judgement
Thank you Father and in Jesus Name I Pray, Amen.
I'm reading the YouVersion plan 'Bible in One Year 2020 With Nicky Gumbel'. Check it out by clicking on the caption below.