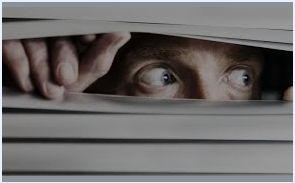 Bible Text: Mark 6:18 "John had been telling Herod, "It is against God's law for you to marry your brother's wife." Read Mark 6:18-28.
Memory Verse: "For you are free, yet you are God's slaves, so don't use your freedom as an excuse to do evil."  1 Peter 2:16.
Few days ago I was lost in thought of how hypocritical people can been in general when it comes to doing what is right. Why do people hear the word of God and get carried away with the things of the world? Why are worldly things so important to us that we go against the instructions of God to please ourselves? Knowing me the list of why is endless and today's bible text addresses one of such issues.
Mark 6:18-28 gives us highlights on what led to the death of John the Baptist. He was appointed to prepare the way for Jesus right from birth hence He was created for a special assignment which he focused on delivering and he was not a respecter of man when it came to delivering God's messages. He obeyed and stayed on that lane. Never diverted or left the course.
Many of Gods messengers have lost the way. Although many may not consult through divination like Ballack did but they are not any different from Ballack who mixed up his messages from God with those he received via divination hence saying things to please human. Christians have idolized mere human created by God and neglected the messages of God Himself and even interestingly, openly defend themselves giving various reasons why they have to compromise.
The message of Christ is not complicated at all and even while on earth Jesus did not try to be superman, He simply delivered His part of the deal. Showed love to everyone, preached the gospel and died for our salvation.  Why have we now complicated everything? Our role like that of Jesus is to deliver that which the Lord has sent us and the doing is up to God.
Many people fear that if they deliver the messages of God, what if God doesn't come through? So they decided to hold on to God's messages even if it meant they had to cover up evil, but how does that make us any different from the person in the evil act itself? God cannot be mocked while he urges us to apply wisdom in everything, we are not to compromise where we stand with things.
John knew Herod's act was evil and he desist not from telling him and Herod respected John for his honesty. Ananias and Sapphira tried to cover up evil and they got the reward of their cover up Acts 5:1-11.
Where do you stand when it comes to covering up evil? Are you more interested in being favored by man rather than being on the Lord's side? We are in an era where every man is fighting to save themselves and there's is no better time to be on the Lord's side than now.
It's better to be quiet than speak when the Lord has not spoken in a bid to cover up evil. Don't use your position to cover up evil for your own benefit. Revelation 22:18.
PRAYERS:
Thank you Father for Your grace over my life and that of my household
Help me from today Lord to stand firm in your faith and stand for you
Help me not to cover up evil and desist from every evil association I am in both knowingly and unknowingly
Forgive my iniquities Lord and let your mercy prevail over judgement
Thank you Father and in Jesus Name I Pray, Amen.
I'm reading the YouVersion plan 'Bible in One Year 2020 With Nicky Gumbel'. Check it out by clicking on the caption below.